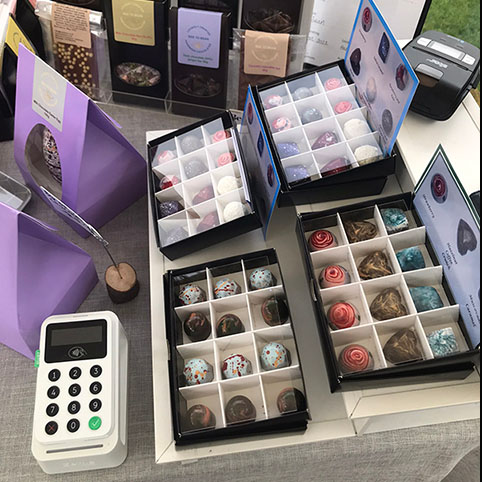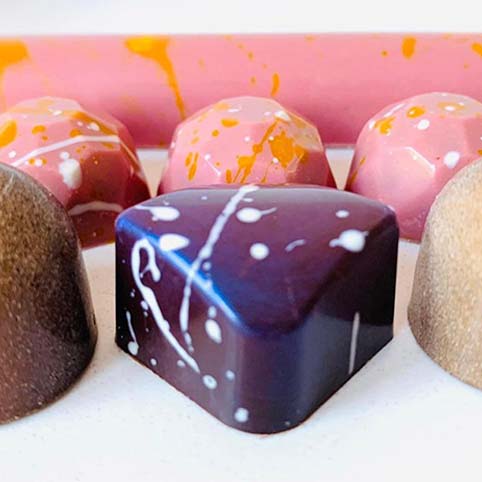 Barbara's tuition in chocolate work was at the famous Cocoa Black chocolate and pastry school in Peebles
Chocolate flavours
Raspberry and rose
Apricot and tonka bean
Muscat
Pandan and coconut
Cherry
Passionfruit
Hazelnut and coffee
Rhubarb and ginger
Grapefruit
Salted caramel
Roasted white chocolate truffle
Vegan chocolates selection
Hazelnut and coffee
Muscovado caramel
Strawberry
Pistachio Truffle
Pecan Praline
Grapefruit
Bars, clusters and chocolate coated (panned) nuts
Caramel chocolate bar
Dark chocolate and ginger bar (V)
Dark chocolate mint bar
Milk chocolate caramel biscuit bar
Pistachio praline bar (V)
Ruby (47.3%) and raspberry bar
Salted cashew nut and date bar (V)
São Thomé 70% Single Origin dark chocolate bar (V)
Tanzanie 72% single origin chocolate bar (V)
Hazelnuts in orange milk chocolate
Milk hot-chocolate bombs
Dark hot-chocolate bombs
Brazil nuts in caramel and milk chocolate
Salted caramel & cashew clusters
White chocolate and cranberry clusters
White Chocolate coated Macadamia nuts
FOR EASTER
Eggs in dark, milk and white chocolate, plus vegan options. The larger eggs are filled with a chocolate selection or smaller eggs.
For Christmas: Baubles with options of milk, white, dark, or dairy free.
Popular Collections
The popular collections of chocolates, bars, panned nuts and clusters are always complemented by the Easter selection of chocolate eggs and the Christmas range of coloured baubles.
Boxes of 12 or 24 chocolates
SUPERB FLAVOURS